Dreams Change Your Life offers resources & inspiration to empower women who are struggling within themselves.
Welcome to DreamsChangeYourLife.com, a captivating destination where stories intertwine with transformative insights. Embark on Sally's remarkable journey as she finds solace and guidance through her dreams amidst life's trials. Explore the groundbreaking research and revelations shared in "The Evolving Dream," one of three empowering books available for sale. Dive into a transformative collection that illuminates the profound power of dreams to change lives. Join us on this empowering quest and explore the transformative potential of dreams.
Vendor:

Regular price

Sale price

$10.00 AUD

Unit price

per

Vendor:

Regular price

Sale price

$10.00 AUD

Unit price

per

Vendor:

Regular price

Sale price

$10.00 AUD

Unit price

per
What the readers are saying
"Not long after her beloved father died, 18 year old Kairouze left her lebanese home for a new lift in Melbourne, Australia. She met Tony, a seemingly kind man, and the two started dating and eventually married. Tony's habitual mood swings developed into a pattern of psychological and physical abuse abuse directed at the entire family. Finding little support from family or friends, the author took advice from her own dreams. Recording them in a journal proved therapeutic in dealing with the real-life abuse she experienced. Like most survivors of domestic abuse, Kairouze agonized over leaving her..."

- Kirkus Reviews
Behind My Closed Door

"Behind My Closed Door is a memoir with a difference. In fact, the book by Sally Kairouze has many unique characteristics that make it a definite pick from the book shelf. The book is one of those fantastic read that not only showcases premiere talent in writing, but also presets an oftern overlooked and rarely exploited idea so that a new generation can benefit from it, that is dream journaling."

"We hear a lot about dreams in post-traumatic syndrome disorder, bu no one ever recorded dreams while undergoing trauma, until now."

- Stuar Lam
Behind My Closed Door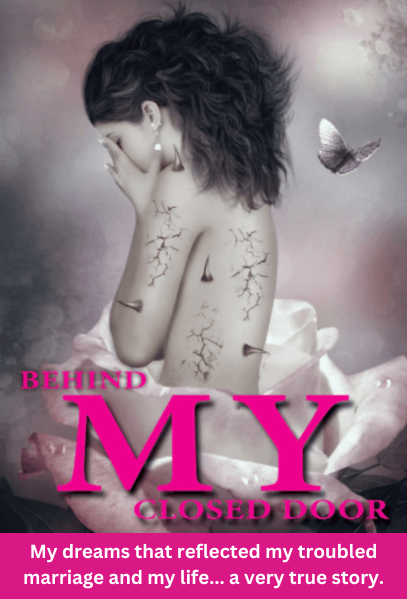 Behind My Closed Door - Available Now!
Here lies a heart-breaking story of survival with breathtaking twist and turns.
DOWNLOAD YOUR EBOOK TODAY.
Shop Now